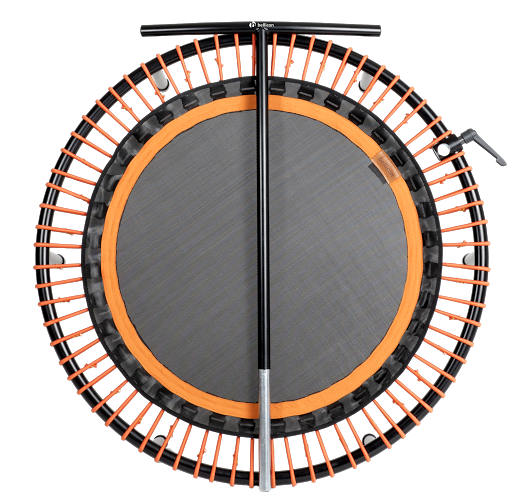 LATEST FITNESS HYPE : BELLICON plus
The Bellicon plus is a unique high-quality mini trampoline.

While conventional mini trampolines use hard, squeaky metal springs, the bellicon® features a highly advanced suspension system. The elastic rings provide a totally different 'spring feeling.

Our highly stretchable elastic rings ensure that the mat much deeper and virtually silent is pressed. Which is a big advantage compared to steel springs. Thus, namely retained a large proportion of the braking energy, which is then almost completely released again in the upward movement. The jump amplitude is equally flexible and dynamic.

The mat is made of high quality polypropylene fabric (Permatron ™). This allows for a secure non-slip surface and a permanent elasticity.

the bellicon® Plus has a new, quick and easy attachment mechanism for accessories which include attaching a T-bar. The T-bar can be fixed put in a few seconds, be adjusted in height and be removed.

The Bellicon plus is available with screw or folding legs, with five different elastic strengths.

CLASSES & EDUCATION  - BELLICON ACADEMY
 




The bellicon Circle exercise program is literally a HIIT, namely a high intensity interval training based on a partner format where mutual motivation and inducement play an integral part in driving the individual to exceed his or her limits.

This regime is a versatile total body workout geared to expand muscle mass and thus tailored to overwhelmingly athletic participants.

Power, endurance, coordination and timed sequences are amongst the integral elements characteristic of a bellicon Circle session.